FOUR INTENSIVE WATERCOLOR SUNDAYS
FEBRUARY TO MAY 2006
Walter Cudnohufsky Ashfield, MA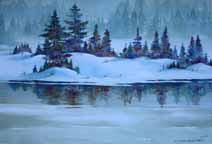 ---
Where & When
Days: Feb 12th, March 12th, April 9th and May 7th 2006.
Time: the class is 9 AM (sharp) to 5 PM (8 hours)
Location: the lower "rear" meeting room of Belding Memorial Library, Main St., Ashfield, Massachusetts
---
What will be taught
The techniques will be demonstrated and articulated by the artist and be followed by student guided work exercises and paintings. The participants can anticipate taking home a small "finished" matted painting. The subjects will be selected or approved by the instructor (see examples being considered on this page) and there will be step by step instruction. There will be group and instructor led discussion and critique as part of workshops.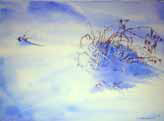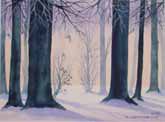 ---
Attendance and Fees
The classes will require a minimum attendance of 5 people unless otherwise approved. A maximum of twelve people per class will be accepted on a first come first served basis. Anyone from 10 yrs to100 yrs is invited. Younger paying participants need to be approved and accompanied by fee paying adult. Seniors over 65 eligible for10% discount by request. The inclusive fee of $70 includes materials, advertising, building rental and instructor fees. Subscribing for all four classes shall be $250 or $225 for seniors. Food available locally. Framing of matted student work is possible (optional) after class for additional at cost fee.
---
To Register
Call the artist for details and/or to sign up for one or more of the classes. The class subjects will not repeat in this series.
Students may call and confirm a place by early Feb 2006 for the Feb. 12th session or any following sessions and for details regarding sending a registration check.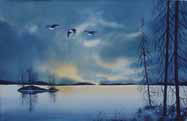 Call 413.628.4600 ext # 11 (Daytime) or 413.628.4759 (Evening)
Walter Cudnohufsky, landscape architect and
watercolor painter of local New England scenes and moods.
Request more information
---